COVID-19 guidance for journalists and media houses in Somalia

0
Friday April 17, 2020 - 05:41:14 in
English News
by Super Admin

File Attachment

Size: 965 KB
ASOJ.ORG - Associated Somali Journalists has today published New guidance (advices) setting out how journalists and media houses in Somalia can meet their media duties as they navigate the effects of the coronavirus pandemic.
Following the announcement by the government to impose curfew on Mogadishu, ASOJ made representation to the Federal Government and appealed for the government to categorise the media as "essential services" that will not be restricted during the curfew. The union justified how journalists must be regarded as vital keyworkers in times of crisis. In less than 24 hours, government responded positively to ASOJ's appeal and the Prime Minister of Somalia Hassan Ali Khaire officially classified the media as essential services.
In light of this positive development, ASOJ releases this
new guidance which will give journalists and media houses a set of useful advices to ensure safe and responsible journalism during the fight against COVID19 pandemic.
"Ensuring media is categorised as essential service was one important win for us in this situation as we wanted to ensure that those journalists who are doing vital public interest journalism reporting the impact of the COVID-19 crisis, are able to go about their work without interference or restriction" said Ali Adan Hashi, ASOJ Secretary General.
In this crisis, ASOJ intends to highlight why quality journalism, which is using unfettered access to information, is vital and the huge role that Somali journalists and their media houses are playing in providing information to the citizenry and working with relevant authorities.
Try to conduct interviews out of doors. While reporting, please ensure that you maintain your distance from others, including interviewees.
~ Photographers should use longer lenses to ensure distance.
~ Sources should not be put at risk of infection. All contacts should be carried out by phone or online where possible.
~ Disseminate or publish verified and authentic information only. Keep reports truthful and accurate. Do not be guided by hearsay or misinformation.
~ Verify information from two sources before publishing or disseminating to prevent spread of misinformation and panic.
~ While reporting about the affected people, maintain confidentiality. Do not discriminate against an infected person.
~ Gender dimension needs to be considered while reporting and disseminating information on COVID-19.
Advices for Media Houses:
Media houses are advised to manage "work-from-home" to minimise the chance of the journalists contracting or spreading the virus.
Media houses are advised to provide journalists with the necessary safety equipment and protective measures.
Media houses must prioritise factual reporting. Competition of breaking news is discouraged to minimise the spread of misinformation.
Media house should provide journalists timely and full monthly remuneration and medical facilities and moral support.
Sarah Abdi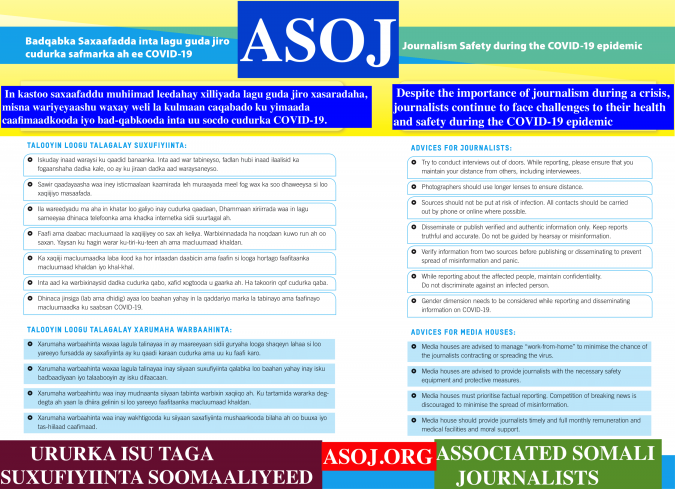 No Comments yet...
Leave a comment